ND FP Spec Club Sport and Long-Stroke
Introducing the new (customized) ND Ohlins kits by MiataSpeed/SakeBomb Garage!
After over a year in development, testing, and taking 1st in SCCA STR for 2017, we are proud to release the product of our work on the ND chassis... two custom made Ohlins DFV kits to suit various budgets and use cases for the ND: 
FP Club-Sport
 and 
FPSpec Long-Stroke
. Both come fully assembled, with floating top hats, ready to drop into your ND! No disassembly of your stock suspension like the standard kits.
The Club Sport:
designed as an affordable option with most of the benefits of our STR Winning Spec kit, with a more affordable price point! The "Club-Sport" kit shares most of its DNA with the FPSpec Long Stroke kit, but simplified. Custom SakeBomb Garage / MiataSpeed Valving Curves, Longer Shock Bodies (compared to the standard ND Ohlins kit), filled with Ohlins 1304 Race Oil, Custom Spring Rates, Floating Top Hats, High Torque Wrenches, and MORE! 
The FPSpec "Long-Stroke":
The FPSpec Long-Stroke is the no-compromise custom DFV kit (the same kit that took first place at STR Nationals driven by Ian Stewart!). This kit can be customized from low spring rate Ultra Grand Touring 6/3kg and below, all the way up to full on Race kits (typically 11/6kg) with optional helper springs. The FPSpec includes all of the features of the ClubSport Kits plus, even longer stroke custom DFV shock bodies to allow for soft spring rates or high race rates with helper springs, Ultra-Accurate Swift brand main and helper springs - in custom Ohlins Yellow color, One-Piece Billet Rear Lower Mounts - light/rigid/and make room for extra shock body length for more stroke, and billet aluminum front forks (lighter and stronger than their standard steel fork counterparts). The no-compromise custom Ohlins DFV solution, engineered by SakeBomb Garage and MiataSpeed!
We don't believe in having you dig through forums to try to figure out what spring rates, ride heights and settings other people think are comfortable or easy to drive. Every set of FPSpëc Suspension comes with custom consulting for your chassis and driving style. Spring rates are selected along with matching helpers if needed. Then the dampers are custom valved by Öhlins and filled with upgraded 1304 race oil. Preload, coilover lengths, and height parameters are calculated and set to your specifications, taking the guesswork out of your setup and installation.
Hysteresis
What is it, and why is it important?
Hysteresis can be thought of as "slop" inside the damper. Slop or the amount of vertical travel needed for all of the seals inside for the damper to move to actually start damping. Ohlins dampers have low hysteresis allowing the use of much higher spring rates for a given comfort level as even the small changes in vertical travel will be damped. Therefore, even with higher spring rates, it will equate to a more comfortable ride. By comparison, other dampers with higher hysteresis will effectively leave small increments of vertical travel un-damped. It is this un-damped travel caused by small imperfections in road surface, curbing, or undulations contributing to a harsh ride usually associated with higher spring rates. 
Standard Ohlins kits allows custom spring rates, however valving will stay the same, regardless of spring rate choice resulting in sub-optimal handling. Standard kit has 90mm of stroke in front and 111mm in the rear. 
Included with both Club Sport and Long-Stroke kits:
Floating Aluminum Tophat with Aurora Motorsports Bearings and Bullet Nose Studs
Floating aluminum top hat helps to eliminate bending loads on the damper's shaft reducing friction on the damper and extending the life of your investment. This reduces hysteresis to ensure consistent, predictable suspension performance in all conditions and extends the time between rebuilds. The only choice of top race teams, Aurora's motorsport series stainless steel, teflon lined spherical bearings provide high strength, silent articulation and will never rust.
Custom Setup Advice
Regardless of if you are looking for the tried and true standard Öhlins DFVs or our exclusive FPSpëc long stroke Öhlins DFV system, we provide individual suspension consultation to help you get the most out of your investment. When your Öhlins box arrives the last thing you want to do is spend hours doing algebra trying to guess as to the best setup for your individual needs. 
High Torque, Non-Marring Adjustment Spanners
When it comes time to make adjustments, we've designed an exclusive non-marring high-torque adjustment spanner to avoid damaging the spring perches. With multiple engagement teeth, it provides positive engagement to avoid slippage and protect your knuckles from the wrath of punching a control arm. A 14mm open end wrench is provided for quick removal of the damper force adjustment knob. Also includes a 3/8" breaker-bar attachment for pesky long stuck jam nuts and finally a bottle opener for those long nights in a cold garage.
FPSpec Club Sport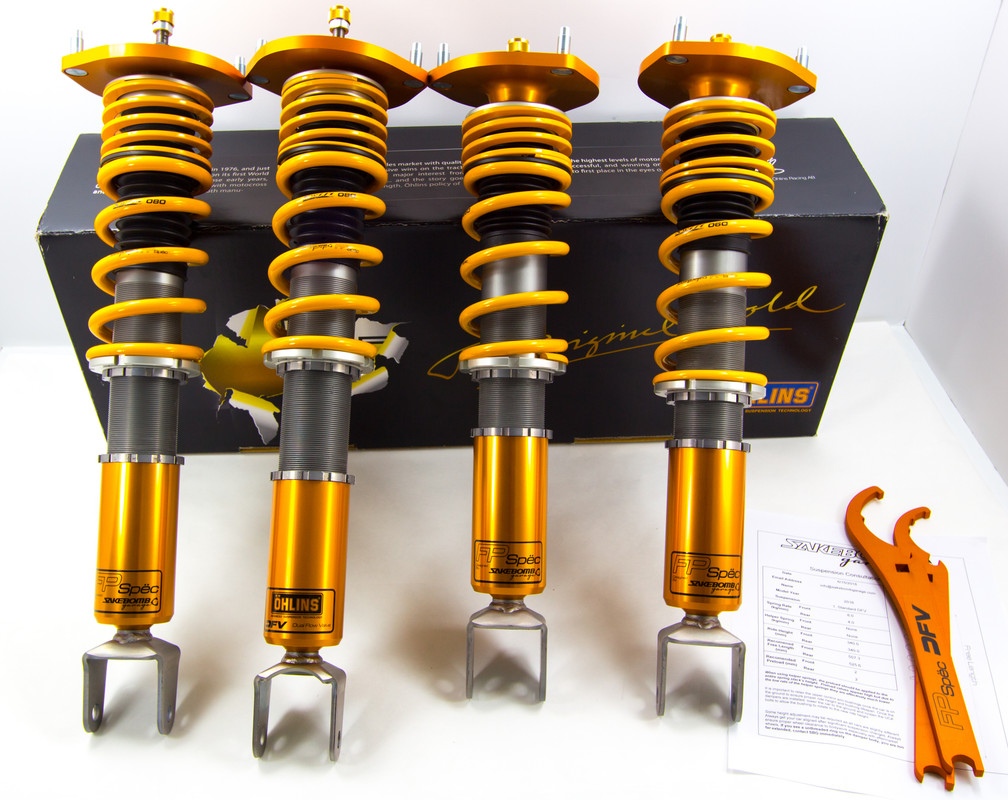 Includes:
Floating top hats included (featuring Aurora bearings)
Ohlins 1304 Race oil (vs generic shock oil in standard DFV's)
Choice of Ohlins spring rates 7F/4R, 8F/4R or 10F/5R (Kg)
Longer stroke than standard Ohlins kit. 111mm stroke in front and 111mm in the rear (for reference standard Ohlins kit is 90mm in front and 111mm in the rear)
Steel Lower Forks
FPSpec Aluminum High-Torque Wrenches Included
Lifetime Chassis Consultation Service Included
Comes fully assembled ready to bolt in!
FPSpec Long-Stroke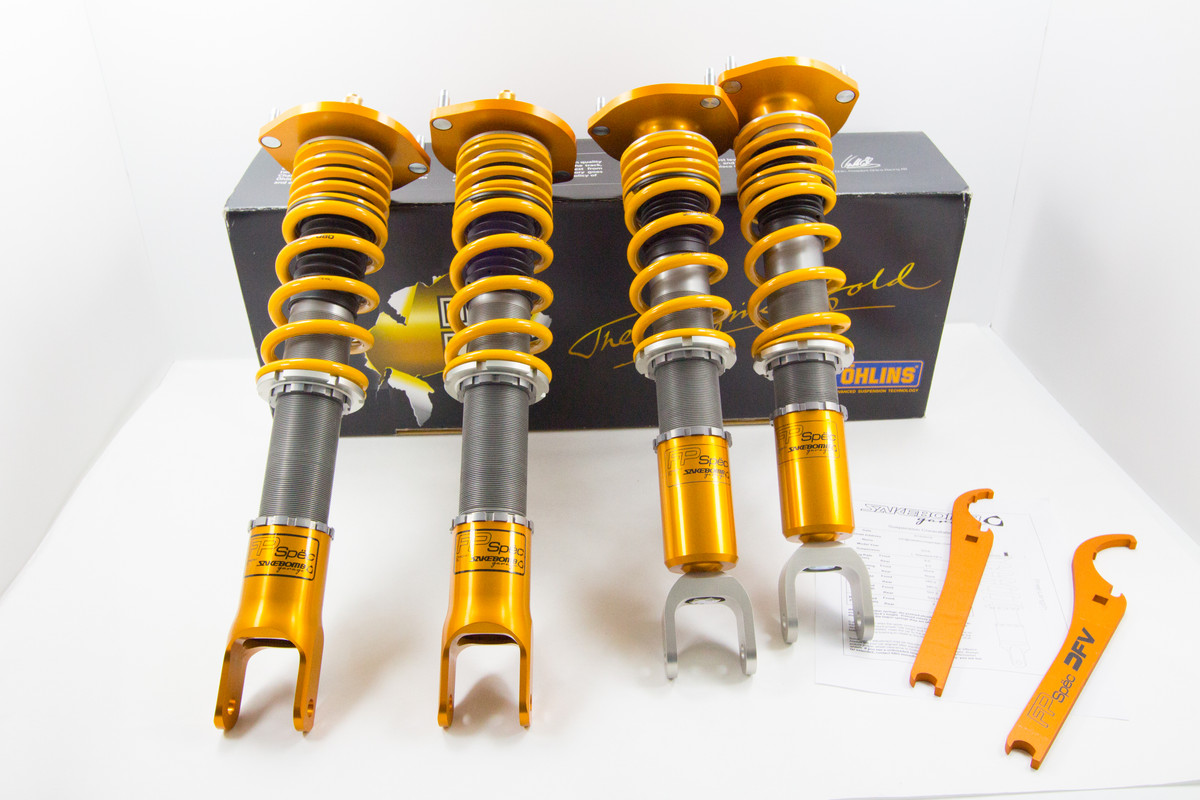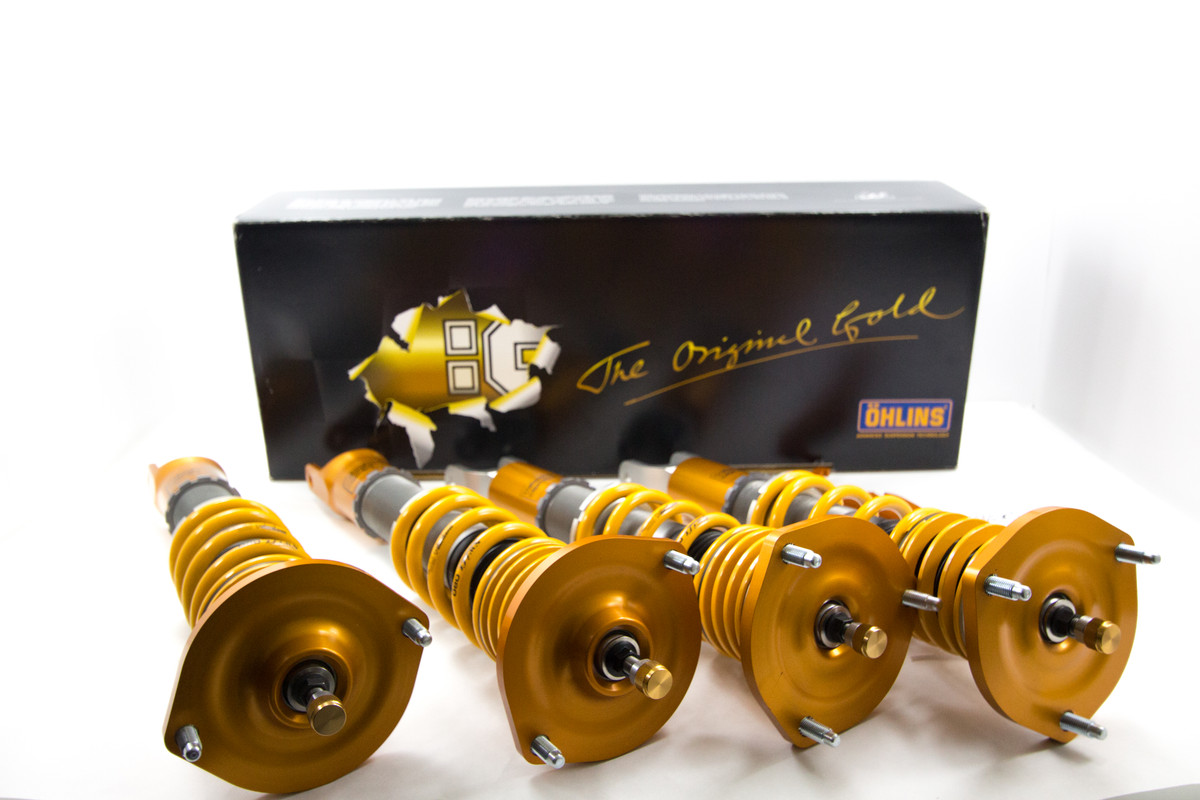 Exclusive features:
30% More Rear Stroke
Longer stroke means more total travel, and completely eliminates the need for pre-load all the way down to 3K spring rates. These custom ultra-long-length damper bodies increase rebound and compression travel to provide maximum performance and drivability regardless of spring rate. Longer stroke also allows the use of helper or assist springs for maximum suspension performance.
Billet Aluminum Lower Mounting Forks

Critical to the FPSpëc design is a single piece billet aluminum rear lower mounting fork. The single piece design increases strength and eliminates wasted length. This allows the exclusive long stroke damper to be installed while still reducing the assembly's total length. The end result is a lower ride height than the standard Öhlins DFV kit for optimal track performance and appearance, while maximizing travel. On the front damper, a billet fork has been designed to further improve strength.
Includes:
Floating top hats included (featuring Aurora bearings)
Aluminum in front fork and billet one piece low profile fork in the rear
Longest Stroke DFV Shock Cartridges Available - Perfect for Compliant Low-Rate Grand-Touring setups OR High-Rate Race Setups requiring helpers
Custom valved for your individual spring rate. (not generic valving from the standard kit)
Ohlins 1304 Race oil (vs generic shock oil in standard DFV's)
Swift Main Springs and Optional Helper Springs Included (custom produced in Ohlins Yellow)
Custom valved for your individual kit
Availability to use optional helper springs (for increased grip and rebound stroke for higher rate race springs)
111mm front 135mm rear (For reference standard Ohlins kit 90mm in front and 112mm in the rear)
STR winning (11/6kg) with helper spring 5kg/3kg
FPSpec Aluminum High-Torque Wrenches Included
Lifetime Chassis Consultation Service Included
Comes fully assembled ready to bolt in!


For more information on SCCA STR Solo win, visit our blog here. 
https://www.miataspeed.com/blogs/new...l-championship
Liquid error (templates/article line 35): Could not find asset snippets/relatedblogs.liquid